Items for Sale - contact us for more info on these great items.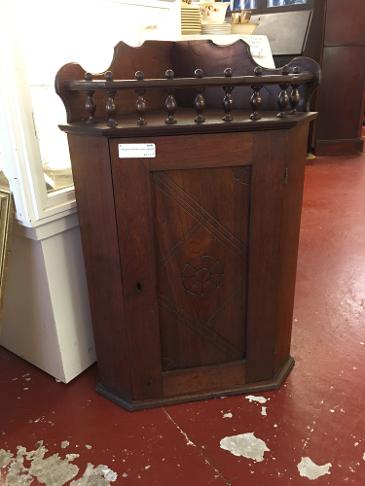 BEAUTIFUL VICTORIAN HANGING CORNER CABINET, $145 FROM DEALER #6.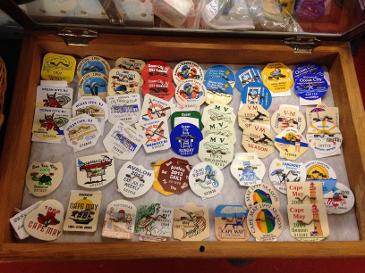 OUR DEALER #19 HAS A NICE SELECTION OF JERSEY SHORE BEACH TAGS AVAILABLE.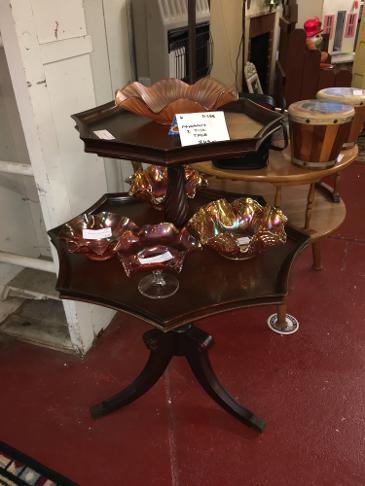 PRETTY CARNIVAL GLASS, PLUS A CUTE TIERED STAND.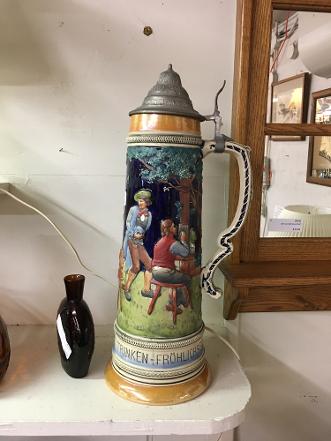 NOW THIS EXTRA LARGE TANKARD WILL HOLD A LOT OF BEER!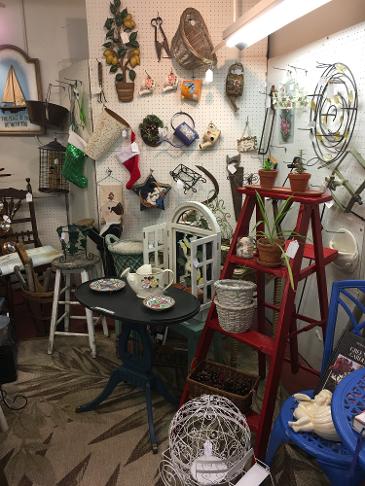 DOZENS OF INTERESTING ITEMS FOR YOUR GARDEN FROM DEALER #50.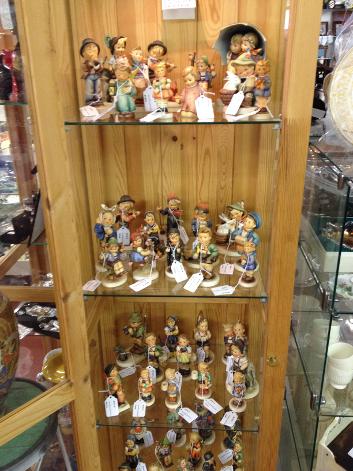 HUMMELS! PRICED LESS THAN ANYWHERE ELSE IN OUR AREA. FOR A LIMITED TIME, EVERY HUMMEL IN THIS CASE IS ONLY $10 EACH!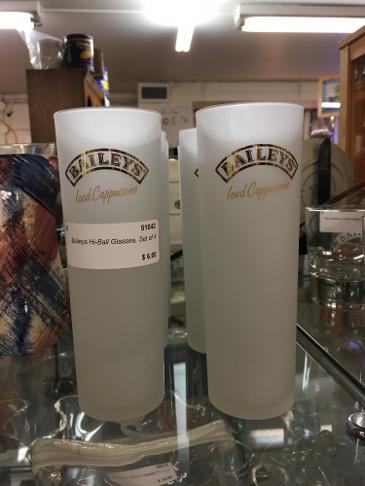 WE HAVE MANY BEER AND LIQUOR GLASSES AVAILABLE FROM JUST A COUPLE OF DOLLARS EACH.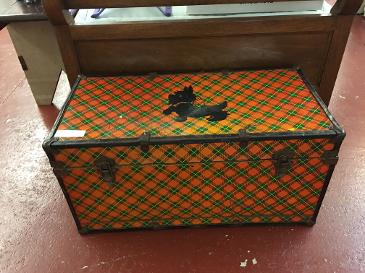 VINTAGE METAL SCOTTIE DOG TRUNK, $49 FROM DEALER #6.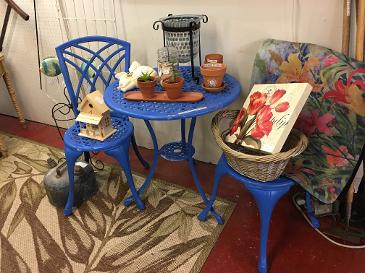 BLUE PAINTED METAL 3 PIECE BISTRO SET, $98 FROM DEALER #50.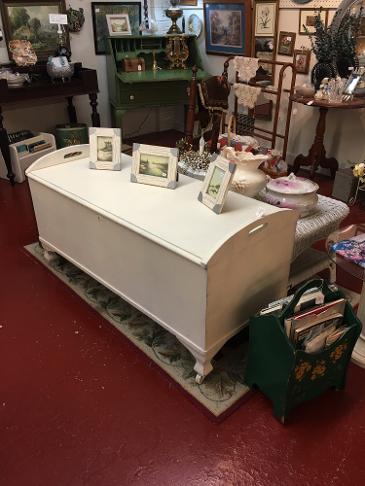 WE GAVE LOTS OF TRUNKS AND CHESTS FOR SALE.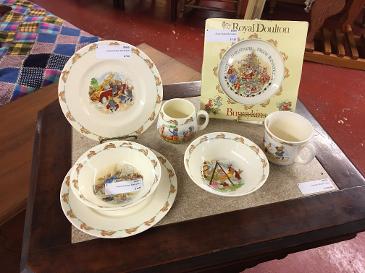 SEVERAL PIECES OF ADORABLE BUNNYKINS CHINA BY ROYAL DOULTON NOW IN STOCK.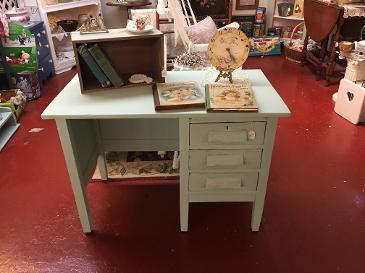 NICE PAINTED DESK FROM DEALER #658, ONLY $65 AND NOW ON SALE 20% OFF OF THAT LOW PRICE.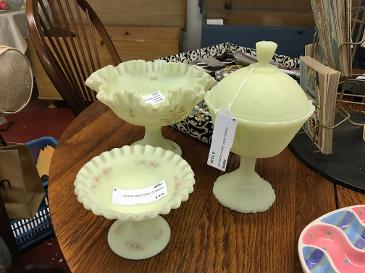 WE ALWAYS HAVE SEVERAL NICE PIECES OF FENTON IN THE SHOP.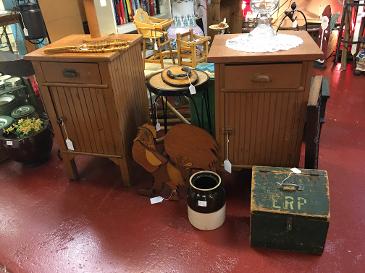 PAIR OF PAINTED COUNTRY STANDS, $85 EACH FROM DEALER #90.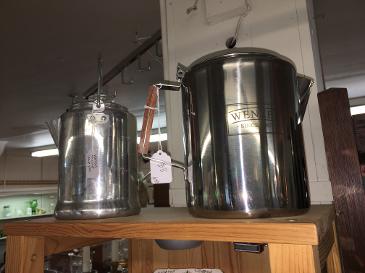 WE HAVE LOTS OF VINTAGE KITCHENWARE IN STOCK NOW.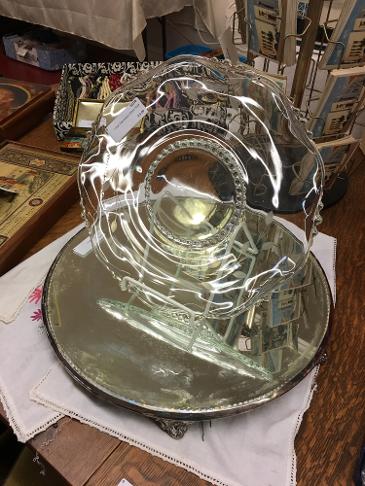 PRETTY GLASSWARE, PLUS THE NICEST, LARGEST DRESSER PLATEAU WE'VE HAD IN A LONG TIME.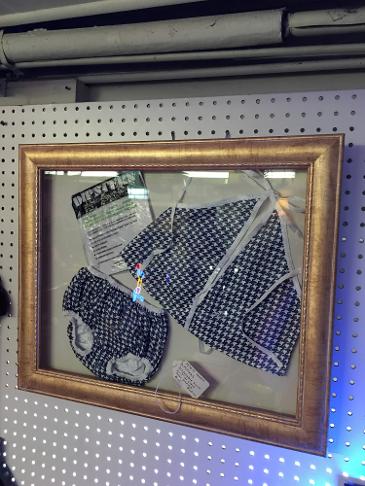 DIPSTERS DISPOSABLE SWIMSUITE FROM THE 1970'S, NICELY FRAMED, $65 FROM DEALER #14